Multi-Format Memory Card Reader
All-in-one USB multi-card reader (49 in 1)
Read, edit, backup phone book dan SMS dari SIM card
Supports 3G SIM cards
Supports SD cards, memory sticks (MS), berbagai tipe memory card
Pocket-sized, mudah dibawa-bawa.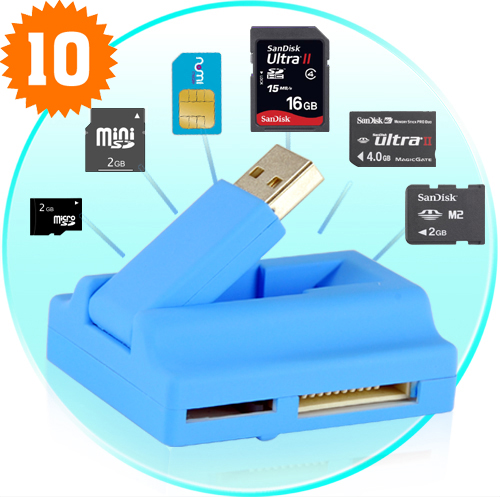 Harga: 125.000,- IDR (exclude ongkir), In stock: ready (8 pcs)
Manufacturer Specifications:
Primary function: Multiple memory card reader
Interface: USB 1.1/2.0
Power Supply: DC 5V from USB Port
Dimensions: 47 x 20 x 55 mm (L x W x H)
Transfer Speed:
- USB 1.1: 12 Mbits/sec.
- USB 2.0: 480 Mbits/sec.
Compatible:
- Slot 1: M2
- Slot 2: Micro SD / TF card
- Slot 3: MS Pro / MS Duo / MS Pro Duo
- Slot 4: SD / MMC / RS-MMC / Mini SD
- Slot 5: SIM card / 3G SIM card
Languages (SIM Card Reader Software): Russian, English, German, Italian, Spanish, French, Dutch, Japanese, and Traditional and Simplified Chinese
Compatibility: Windows 2000/ME/XP/Vista (32 bit version) ; Mac

Product Notes:
Mendukung kecepatan transfer High speed USB 2.0
Disertai dengan software untuk reading dan back up SIM card
Export dan Import Phone Book maupun SMS dari SIM card dalam format .txt maupun .csv

Package :
Model CVHR-G43 Multi-Format Memory Card Reader
CD with SIM card reader/editor software

FAQ - Frequently Asked Questions:
Q: Apakah dibutuhkan software tambahan untuk mengakses SIM card?
A: Pada paket distribusi telah disertakan software utk reading dan editing SIM card.
Q: Apakah card reader ini dapat bekerja untuk SIM card saya?
A: Card reader/editor ini mendukung SIM card baik yang bertipe GSM maupun CDMA, bahkan mendukung 3G SIM card.
Q: Bagaimana caranya mengakses SIM card saya dengan software bawaan yang disertakan pada CD?
A: Masukkan SIM card pada card reader, kemudian hubungkan card reader dengan komputer melalui port USB. Install dan jalankan software dari CD. Untuk mengakses phone book maupun SMS, tekan "Access Card". Jangan lupa jika Anda telah melakukan perubahan data , tekan "Save to Card" pada software.